Wood Look Tile in Simi Valley, CA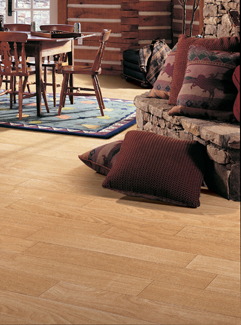 Find the flooring you need to unlock your home's true potential. We carry an extensive selection of floors from the major manufacturers you know and love. Every room is different in some way, and each requires a type of flooring that matches the décor and the environmental conditions. When a customer is decorating a room that must stand up to spills and splashes, we recommend wood look tile in Simi Valley, CA.
At Flooring America by Flooring Galleria, you get great pricing on flooring and so much more. We offer you design solutions that accentuate the existing décor in your home. Solid hardwood offers character and warmth in places like your living room and study, but wood's tendency to expand and contract when exposed to water makes tile a better choice for the bathroom.
Start a conversation about your needs with a designer who takes the time to listen. We have worked with a broad array of local clients during our time in this market, and we are proud of the reputation we have built during that time.


Flooring that Fits
For centuries, architects and designers have relied on tile as a floor covering for homes and businesses. Our design team can look at your entire plan and suggest a series of products with the stain and grain you need. We now carry a tile product that provides the customer with added functionality and appeal.
Traditional ceramic and porcelain tile is combined with a photo layer that replicates the look and texture of real hardwood. The planks are shaped to match the wood flooring you have purchased for other rooms in your home.
Get a better understanding of the differences between ceramic and porcelain plank. Wood plank porcelain tile is a denser flooring product that is mainly used as a wall covering in bathrooms. An installation contractor will appreciate the density of wood plank ceramic tile. We match you with a contractor that has the tools and training needed for your particular project. You will understand the difference.


The Right Approach to Installation
Our contractors have real-world experience installing the flooring you have purchased, so make the smart choice for your next project. In many cases, your flooring warranty may require professional installation.
You need the tools and training that only a trusted contractor can provide in order to get the proper grout and seal. Do more with the plan you have when you choose ceramic wood tile. When you renovate with our porcelain wood tile, you can make your project a success.



Contact us today for wood look tile that will transform your kitchen into a showplace. We proudly serve customers in Simi Valley, Camarillo, Moorpark, Newbury Park, Thousand Oaks, Westlake Village, and Ventura County, California, and the surrounding communities.