Your Source for Waterproof Floors in Simi Valley, CA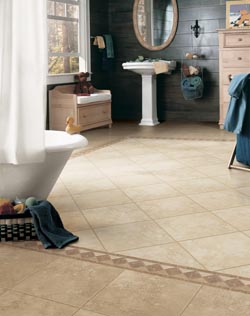 When it's time to strengthen and beautify your property, make Flooring America by Carpet Galleria your first choice. We make your project easier by providing a wide selection of waterproof floors in Simi Valley, CA. Our showroom offers the products and services you need to revitalize your home's interior.
Our showroom has a versatile selection of flooring that will meet your needs. When you visit our showroom, you can view samples of our products, speak with our flooring associates, and turn your ideas into a reality. With our personalized customer support and professional installation services, your project is as good as finished.


The Benefits of Waterproof Flooring
Waterproof flooring has risen in popularity, thanks to its durability, visual appeal, and design flexibility. Our showroom is proud to offer a wide range of water-resistant carpeting and luxury vinyl flooring. So whether you wish to replace worn flooring or are planning to a home makeover, we have the tough-yet-elegant surfaces that will make your space stand out.
Water-resistant floors are a smart choice because they are easy to clean and maintain. Luxury vinyl floors, for instance, have a solid surface that repels dirt, dust, water, and most liquids. Most accidents can be wiped away or cleared out with a cloth. Likewise, water-resistant carpet flooring is manufactured with specialized fibers and dyes. They act as a barrier against liquid, which gives you time to blot out spills.
Waterproof flooring's ease of maintenance makes it a great addition to virtually any room. From kitchens and bathrooms to hallways and common areas, this flooring is always a good choice. Waterproof luxury vinyl planks are one of the most versatile flooring materials in the industry. It is available in different designs, including the appearance of other materials like solid hardwood. Our showroom also features carpeting in different colors and designs. Altogether, our flooring selection empowers you to re-floor each room in your home.


Flooring Installation You Can Count On
You took the time to pick your favorite flooring. Make sure your project attains picture-perfect results. Our showroom is here to make sure your new flooring looks great and lasts long, thanks to our professional water-resistant flooring installation services. We have a professional team of installers ready to assist you.
Our flooring technicians have years of experience, and we take on projects of virtually any size and scope. Whether you are re-flooring the kitchen, bathroom, or your entire property, we are here to ensure everything goes right.



Contact us to learn more about our waterproof flooring. We serve Simi Valley, Camarillo, Moorpark, Newbury Park, Thousand Oaks, Westlake Village, and Ventura County, California, and the surrounding communities.