Vinyl Flooring in Simi Valley, CA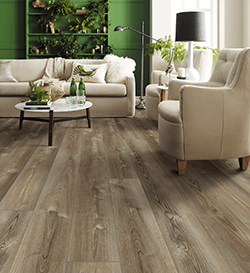 Achieve the aesthetic you want for less by renovating with vinyl flooring. Vinyl is a budget-friendly alternative to hard flooring that looks great in any room. Shop at our friendly local store to explore countless different vinyl flooring styles. We stock classic designs and the latest products from top brands of vinyl tile flooring, vinyl plank flooring, and vinyl sheet flooring. Speak with our sales associates to find the perfect flooring design to match your décor and suit your tastes.


Reasons to Choose Vinyl Tile Flooring and Other Vinyl Varieties
Update your home or business with a stylish vinyl surface. Vinyl is incredibly versatile, allowing it to coordinate with almost any type of interior design. Whether you want to emulate the warm look of hardwood or the elegance of tile, our store has the right products for you. Our vinyl tile flooring replicates the timeless appearance of ceramic and stone floors, while many types of vinyl plank flooring are available that realistically resemble a range of wood species. We also sell a wide array of vinyl sheet flooring in sophisticated styles.
Protect your floors from moisture by installing vinyl. Vinyl flooring is constructed with a fiberglass backing that repels water. This makes it highly resistant to mold and mildew damage, so it is ideal for wet areas like the bathroom and kitchen. It is also famous for being easy to clean, so you do not have to invest excessive time or money into its maintenance.
When you want an affordable flooring option that looks impressive even after years of use, vinyl flooring is the answer. It resists scratches, stains, dents, cracks, and other damage long after installation. Speak with our in-store flooring experts to learn more about vinyl's durability and pick out a design that looks great in your home or business.


Efficient Vinyl Flooring Installation by Our Certified Team
Make your renovation simple by hiring our store's vinyl flooring installation team for the job. All of our installers are fully certified to work with every type of vinyl for projects both big and small. Each team member is also trained to install all of our store's products according to their product warranty, allowing you to rest assured that you will get the most out of your purchase. For more information on our warranties, products, and installation procedures, please speak with our helpful staff.



Contact our vinyl flooring store at <PHONE> for information on our products and installation services. We proudly provide vinyl tile flooring and other styles to home and business owners throughout Simi Valley, Camarillo, Moorpark, Thousand Oaks, Westlake Village, and Ventura County, California, and the surrounding areas.