Hardwood Floors in Simi Valley, CA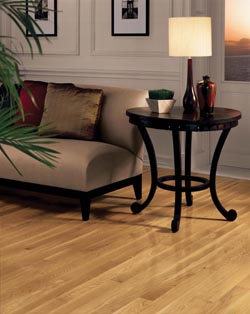 Invest in your home or business with elegant hardwood floors. Our local flooring store sells hardwood flooring in a variety of different species, stains, and glosses. Whether you are looking for engineered hardwood flooring or solid hardwood flooring, we have the products that are sure to fit your needs in appearance, performance, and even price. Visit our store to browse our vast inventory and speak with our knowledgeable sales associates about the many major brands we sell, including Mannington™, Armstrong™, and Mohawk™.


Benefits of Hardwood Flooring
Add value to your property by installing hardwood flooring from our store. Whether you choose cherry, hickory, maple, oak, or another species, your new hardwood floors boost your home's aesthetics and character. Many homeowners choose hardwood for its unsurpassed beauty and value. Hardwood is long-lasting and never goes out of style, so investing in it ensures your rooms always look beautiful.
In addition to being beautiful, our stylish and durable hardwood options are also easy to clean and maintain. Since wood is naturally stain-resistant and does not attract particulate matter, it does not typically require expensive or time-consuming maintenance.
Environmentally conscious property owners often choose hardwood for its sustainability. Wood is a naturally occurring resource, so hardwood flooring is an eco-friendly choice for both homes and businesses. Learn more about the different species of wood our flooring is available in by speaking with our in-store flooring experts.


Both Solid and Engineered Hardwood Flooring Available
Choose from a wide selection of hardwood types by shopping through our store. Our sales associates understand that each client who comes through our doors has a one-of-a-kind property with a unique set of requirements. That is why we strive to provide complete guidance from start to finish as you select hardwood flooring tailored to beautify your living space.
In order to offer you the best possible selection, we stock both solid and engineered hardwood flooring varieties. Solid hardwood flooring is famous for its unrivaled elegance and longevity. Even after years of wear and tear, it can be refinished and re-stained to look brand new again, making it a great investment. Engineered hardwood flooring is carefully crafted for ultimate durability. Since it is constructed with multiple layers, it holds up well to foot traffic, moisture, and heat. For help deciding which type of hardwood best suits your needs, talk to our friendly flooring specialists.


Hardwood Flooring Installation by Seasoned Professionals
Hardwood flooring is a design focal point and permanent fixture in your home, so it is essential to install it right. Work with our hardwood flooring installation team to protect the integrity of your new floors and lay your purchase out right. Our certified installers have the proper training and experience necessary to install your hardwood floors quickly and correctly in accordance to their product warranties. Whether your purchase is for a small, single-room project or a big job spanning your entire property, our crew members install your new hardwood flooring with care.



Contact us at <PHONE> to learn more about our extensive flooring selection. Our flooring store serves residents of Simi Valley, Camarillo, Moorpark, Thousand Oaks, Westlake Village, and Ventura County, California, and the surrounding areas.