Carpet Stores in Simi Valley, CA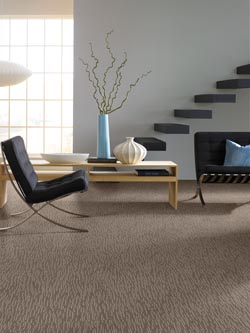 Add color and comfort to your home or business by shopping with us. Our reputable local store is one of the area's top carpet stores. Our massive selection of different carpet flooring styles, fibers, colors, and textures, along with our team of helpful sales associates and certified installers, make us the place to go for both carpeting and area rugs. When you are in the market for new flooring, visit our carpet store and see why we come so highly recommended.
From traditional Berber carpet styles to this year's latest designs, our carpet store offers one of the biggest inventories in the area. Our sales associates are always ready and willing to help you find the ideal carpet for your home or business. We have the interior design knowledge necessary to coordinate your new flooring with the existing décor in each of your rooms. Let us help you choose carpet flooring that enhances the beauty of your property.


Advantages to Choosing Carpet Flooring
Take advantage of carpet flooring's versatility to coordinate your décor in each room of your house. Since carpeting comes in so many different styles and patterns, there is a color and texture to match almost any type of interior design. Carpeting has a warm and welcoming aesthetic that makes any house feel like home. This sense of comfort means carpeting is perfect for bedrooms, living rooms, play rooms, and recreational rooms.
Carpets also buffer sound, so you are not disturbed at night by people or pets walking around. Homeowners also appreciate carpeting's thermal resistance. No matter what the temperature is outside, carpeting never feels cold when you step on it. Increase your home's comfort with a new carpet from one of the several major brands we have in stock.
With several stain-resistant varieties available, carpet flooring is also easy to maintain. Whether your household includes furry pets or your business receives a lot of foot traffic, our sales associates can help you choose the flooring that meets your need and is simple to clean. We strive to match your property with carpet that looks fantastic even years after installation.


Professional Installation for All Carpeting Brands
Whether you are replacing outdated carpeting or seeking carpet for your brand new home, our certified carpet installation team ensures your purchase looks great on your floors. We always follow the proper installation procedures for your new carpet's product warranty. Let us do the hard work for you so you can enjoy your new carpet flooring as soon as possible. Protect your investment with the work of our skilled and experienced installers.


Top Brands in Stock at Low Prices
When choosing flooring for your home or business, it is important to invest in a product that holds up well to years of foot traffic. That is why our carpet store stocks the top carpeting brands that boast both durability and appealing designs. Our carpet inventory includes major brand names like Karastan™ and Tigressa™, among many others. Since we are backed by the buying power of one of America's largest flooring retailers, you can always rest assured that you are receiving a high-quality product at a fair price.



Contact us at <PHONE> to find out more about the many styles of carpet flooring we offer. Our carpet store serves residents of Simi Valley, Camarillo, Moorpark, Thousand Oaks, Westlake Village, and Ventura County, California, and the surrounding areas.